THE NO-NO LIST!
STICKY, CHEWY FOODS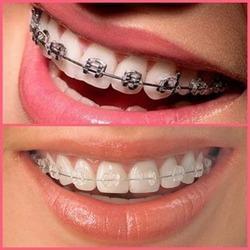 TAFFY
GUMMI BEARS
CARAMELS
NOW-N-LATERS
STARBURST
TOOTSIE ROLLS
*** ABSOLUTELY NO CHEWING GUM ***
SKITTLES
SUGAR DADDY
LICORICE
The suction from chewing on these types of foods will wash away the cement that holds the bands on your back teeth. Even if you do not notice loose bands right away, decay could develop under the bands where the cement has washed away.
HARD, CRUNCHY FOODS
PRETZELS
DORITOS
COMBOS
NUTS
PEANUT BRITTLE
POPCORN
ICE
TACO SHELLS
CORN CHIPS
These types of food will bend archwires, loosen bands and pop off brackets. Popcorn is not allowed. Even though it is not hard, the husks can get lodged between the bands and the gums and can cause inflammation, soreness and could lead to an infection. We also ask that you stay away from mints, and suckers because biting down on them just once could cause damage.
A few more words of advice… Cut or tear foods such as raw vegetables, pizza crust, candy bars, pickles, etc. into bite-size pieces before eating them. Also, don't bite your fingernails or chew on pens or pencils. Be careful when eating fried chicken and cut corn on the cob off of the cob.
While you are in treatment you are allowed three loose or broken appliances. After the third there will be a charge for each appliance. If you notice that anything is loose or broken, notify us before your appointment so that we can allow for time to repair your appliances or reschedule as necessary.
Although it may seem that "all the good things in life" are on this list, don't feel deprived! If you will follow our directions your treatment will go smoothly and you will be out of braces before you know it! And remember, our patients are special to us. If you have any questions along the way, feel free to ask – that's what we are here for.
Please visit our Website